This is one of those projects that has been complete for awhile
with the exception of the finishing touch.
I can be such a procrastinator.
Really though,
I am SUPER EXCITED to share this project with you ladies.
I truly just love it.
Okay, so it is a frame of sorts created from
one of those ceiling lamp covers.
You know the old school shades.
I picked this one up for .99 at my local thrift store
back in January,
and I immediately knew what I was going to do with it.
Let's just hop to it then.
Here are the supplies that I used.
To Begin:
My thrift store light cover
Sponge brush
Blue tissue paper
Mod Podge
Later you will need:
Nemo figurines
Gorilla Glue (other glue of your choice works too)
Clear Vinyl
Disc Hangers
White Sticker Letters
STEP ONE:
Mod Podge the shade
I did this by tearing the tissue paper into strips;
they do not need to be even.
I then used the Mod Podge to adhere them
to them back side of the shade.
By overlapping at various intervals
I was able to get the look of ocean currents.
until I had a look that thoroughly satisfied me.
STEP TWO:
Now it is time to decorate the front side.
After the Mod Podge is dry,
lay the shade so that the printed side is toward you.
First you are going to take some clear vinyl
and make a photo pocket.
A simple way of doing this is by using packaging of some sort.
I used a Creative Memories sticker package.
I used my trimmer to cut it to a size that fit the frame.
I left one side open to insert a photo.
Then I adhered using my Gorilla Glue.
Once that was in place I began arranging my
Nemo figurines and adhering them with
the Gorilla Glue.
***I purchased these figurines about 1 1/2 years ago
from E-Bay for $3 plus shipping, totaling $7.
They shipped from China.***
I also added a photo from Disneyland.
Due to the angle of the glass the characters did slide a bit,
but in the end the result was fine.
It looks extra cool back lit,
but when hung this will not be the case.
STEP THREE:
How to hang such a creation.
Oh the wonderful world of Disc Hangers
.
I have been wanting to try this since the first time that I saw them used by Jen of Tatertots and Jello,
maybe around December or January.
Anyway, I purchased some just for this project.
I wasn't sure what size I needed,
so I picked up a few.
I went with one in the middle
(in regard to those I purchased that is).
It is fairly large,
but these shades are heaven and I wanted to be certain it was secure.
I adhered it following the easy steps on the label.
Voila! Ready to hang.
STEP FOUR:
Sometimes an additional step is added last minute.
After all was said and done,
I felt like there was still something missing.
There was a bit of empty space toward the top.
I decide I wanted to put a quote from the film there.
I chose:
Shark Bait! Hoo Ha Ha
(I totally looked it up to make sure it was correct too).
It was now ready to hang over the towel rack in the boys bathroom.
It was a perfect addition,
and it filled up the empty space perfect
ly.
I hope that you are inspired to go out
and do something fun and creative.
It is wonderful to use a something in an entirely new way.
On Thursday I will be linking this to
Wish me luck.
I have my fingers crossed.
I have tummy butterflies about this because
Mandi
is the judge.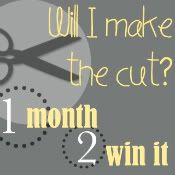 Pssst . . .
I also am using this as my season 5 audition. Fingers crossed.
One last special link up: